Adventure Outdoors... Our
Top 10 Adrenaline Rushes.
The ultimate Adventure Outdoors for adrenaline junkies isn't your average family holiday by the sea or in a caravan park.
They want to fly through the air from a dizzying height with a bungee rope strapped to their ankles, or push their luck on a mountain-side in Tibet, or travel to where they can swim up close and personal with a Whitetip Reef or Hammer-head shark.
So here's an Adventure Outdoors Top 10 that might make the bucket list of many a thrill seeking adrenaline junkie.
Think you can do better?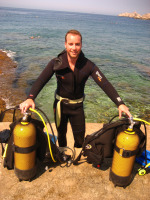 Go ahead... make our day... send it to us and we'll publish it.
Cheers, from the "Crazy Team"
*P.S. You'll find one of our our "Crazy" team (we've nick-named him "Rambo") swimming with sharks down below. And yes, he was crazy enough to run with the bulls, and dive the Blue Hole. We're just wondering what he's gonna try next!
Top 10 Adventures Outdoors.
1. Hiking Everest Base Camp:
Where: Mount Everest, Tibet.
Why: As George Mallory said before his fatal attempt in 1924, "Because it's there!"... the ultimate adventure outdoors.
Risk: Since the first recorded deaths in 1922 some 233 climbers have died on Everest up to 2012... 15 died in 1996 alone... the majority of these fatalities (56%) have occurred while climbers were descending the mountain rather than on the climb to the summit.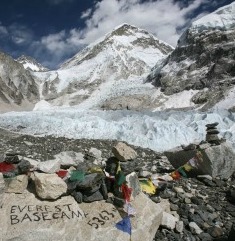 Since Sir Edmund Hillary first conquered Mt Everest in 1953 there have been 6,149 total ascents by just 3,755 persons to spring of 2012. Some 150 unrecovered bodies are believed to still lie somewhere along the slopes of Mount Everest, many in the "death zone" above 8,000 meters (ref: Wikipedia).
Risk Factor: 9
Sources:
Even flying over Mt. Everest can be a risk:
A light plane crashed September 2011 killing all 19 people on board including 10 Indian, 2 American, and one Japanese tourists. The plane had been on a joy-flight over Mt. Everest and been returning to Kathmandu (Nepal's capital) after experiencing bad weather.
Nepal's Shocking Air Safety Record:
September 29, 2012... 19 passengers killed (7 Britons, 5 Chinese, 3 Nepalese, four crew) when a twin propeller Dorier crashed in flames soon after take-off. Reports suggested a large-bird strike and an over-loaded plane may have been contributing factors.


September 2011... 19 die, including 16 tourists, when a Buddha Air flight crashes.


December 2010... another 22 passengers killed in a plane crash.


August 2010... bad weather blamed for another incident that claims 14 lives, including 4 Americans, a Briton, and a Japanese national.


2. Scuba Diving the Blue Hole:
Where: A few kilometres north of Dahab, Egypt on the coast of the Red Sea.
Why: One of the most unique and dangerous places to dive in the world.
Risk: The Blue Hole, often described as "The World's Most Dangerous Dive Site" and nicknamed "The Diver's Cemetery" has claimed the lives of over 80 divers.
This is our ultimate underwater adventure outdoors.
Tragically, one of these deaths was captured on video. Yuri Lipski, an Israeli- Russian diving instructor recorded his own death 92 meters below the surface.
Risk Factor: 9
Sources:

3. Running of the Bulls in Spain:
Where: Pamplona, Spain.
Why: To prove you have what it takes to run in one of Spain's longest running traditions.
Risk: Every year some 200 to 300 people are injured during the week long Pamplona festival... and 15 people have been trampled or gored to death since 1910.
This is not an adventure outdoors for the faint hearted or those who can't run real fast.
Risk Factor: 9
Sources:

4. Sky Diving in New Zealand:
Where: Taupo, New Zealand is the skydiving capital of the world. Up to 30,000 crazy sky-divers meet here in the summer months seeking adventure outdoors and an adrenaline rush in the clouds.
Why: To experience terminal velocity at about 200 kph.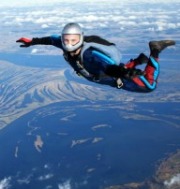 Risk: Fatality statistics by category:
Collisions (74)... 16%
Landings (150)... 32%
No Pulls (41)... 9%
Malfunctions (79)... 17%
Reserve Problems (23)... 5%
Other (68)... 14%


Total 474 Deaths Skydiving.
Risk Factor: 9
Sources:

5. Mountain Biking Down Death Road:
Where: 56 kilometres northeast of La Paz in the Yungas region of Bolivia.
Why: To feel the rush of riding along the edge of a 200 metre sheer cliff drop.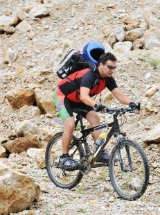 Risks:At least 18 bike riders have died on the Death Road since 1998... while an estimated 200 to 300 motorists are also killed every year on these roads.
This isn't just an adventure outdoors... this is a death wish.
Risk Factor: 7
Sources:

6. Gorilla Watching In Uganda:
Where:Bwindi Impenetrable Forest, Uganda.
Why: To view a truly majestic, endangered species in their own habitat.
Risks: Sometimes gorillas don't like to be watched.
This adventure outdoors really caught the public's attention following the release of the 1988 movie "Gorillas in the Mist" starring Sigourney Weaver.
The film was based on the real life story of anthropologist Dian Fossey who travelled to Africa and began a movement to save the dwindling gorilla population from poachers. She was murdered in 1985, but her actions saved the species from extinction.
Risk Factor: 5
Sources:

7. Swimming With Sharks In Malaysia:
Where:Layang Layang, a tiny coral island located 180 nautical miles (300kms) off the West coast of Sabah... or Sipadan Island, Malaysian Borneo.
Why: Two places in the world where you can swim with Whitetip Reef sharks, or huge schools of hundreds of Scalloped Hammerhead Sharks.
Risks:Only a few sharks are dangerous to humans. Of more than 360 shark species, mainly four have been involved in a significant number of fatal unprovoked attacks on humans: the Great White, Tiger, Bull and the Oceanic White-Tip.
Unfortunately, the fear of being bitten in half by a Great White will keep most of us from adding this one to our "bucket list".
Risk Factor: 5
Sources:

8. Hang Gliding In Brazil:
Where:Pedra Bonita take offramp located inside the famous Tijuca National Park, Rio de Janeiro, Brazil.
Why: Soar like an eagle, drifting over the amazing Tijuca National Park mountains, taking in the stunning views of beautiful Rio de Janeiro.
Risk: Only that you might fall out of the sky.
This is one gorgeous, romantic location where you can combine your adventure outdoors with a bit of steaming-hot salsa.
Risk Factor: 4
Sources:
Hang Gliding Accident Statistics
Watch this "Crazy" Brit as she jumps off the amazing Tijuca National Park mountains and Hang Glides out over Rio de Janeiro's stunning coastline... a definite " must do" for any adrenaline junky's adventure outdoors "bucket list".

9. Hot Air Ballooning In Exotic Places:
Where:China, Cappadocia (Turkey), Egypt.
Why: Marvel at breath-taking views without the background roar of jet engines.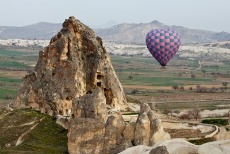 Risks:
4 Dutch tourists burnt to death in Yangshuo, China October 2009 in one incident alone.
Two tourists killed in a balloon crash in the desert of Abu Dhabi in 2010.
Two women burnt to death when balloon burst into flames in British Columbia, Canada in 2007.
British space scientist dies in hot air balloon crash May 2009 in central Turkey.
16 tourists injured in hot air balloon incident April 2009 near Luxor, Egypt.
Risk Factor: 3
Sources:
NEWSFLASH:... Adventure Outdoors
Hot Air Balloon Crash Kills 11: January 8th, 2012.
10 passengers and the pilot of a hot air balloon were killed near Caterton, New Zealand.
It appears the balloon clipped power lines showering sparks and setting the basket alight.
A man and woman jumped to their deaths from the burning basket before it plummeted to the ground killing all on board. Two retirees on board had received the flight as a Christmas present.
NEWSFLASH:... Adventure Outdoors
Hot-air Balloon Crash Kills 19: ... February 26, 2013.
A hot-air balloon carrying 20 tourists has caught fire, exploded and plunged to earth killing 19 over the temple city of Luxor, Egypt.
A witness said the fire broke out 40 feet from the ground as the balloon was coming down to land. It seems the pilot jumped out without turning off the gas valve. One passenger also managed to scramble out before the lightened, burning balloon soared 1,000 feet up into the sky before exploding.
The victims included 9 tourists from Hong Kong, Japanese, French, Hungarian, and Egyptians.
A member of Luxor's Tourism Chamber blamed negligent civil aviation safety authorities saying "These people are not doing their job... they are not checking the balloons and they just issue the licences without inspection".
This tragedy highlights that adventure outdoors is not without risk.
Published on 26 Feb 2013 2013 by ABCNews.

10. Bungee Jumping In China:
Where:The Macau Tower, Macau, China.
Why: Highest bungee jump in the world, standing at 233 metres.
Risk: The worst that might happen is you'll die.
In 1986 Michael Lush died of multiple injuries in a bungee jumping stunt gone wrong for a BBC television program.
In 1997, Laura Patterson, a member of a professional bungee jumping team, died of massive cranial injuries when she jumped from the top level of the Louisiana Superdome and crashed head-first into the concrete playing field. She'd been practicing for an exhibition to be performed during half-time at the Super Bowl XXXI.

Injuries can also result from the explosive rise in blood pressure caused by the bungee cord recoil. Eyesight damage is an often reported complication; retinal haemorrhage can result in impaired eyesight which can take weeks (sometimes months) to resolve. Whiplash injuries can occur from the jolt of the bungee cord, and in at least one case has led to quadriplegia resulting from a broken neck. Serious injuries can result if the jumper's neck or body becomes entangled in the cord, and can even lead to a type of stroke. Bungee jumping has also been shown to send stress levels soaring and to decrease immune function.
Risk Factor: 2
Sources: