Top 10 Mobile Phone Apps
for Safety & Security.
Over 1 million Mobile Phone Apps were available in app stores at the start of 2012.
Apple's App Store displayed close to 600,000 apps. Android had half a million and was closing fast on Apple. While Blackberry App World got by with around 60,000 apps.
Little wonder it's often said "there's an app for that".
Here's a list of Top 10 Mobile Phone Apps we feel may be worth considering if you're as concerned about safety and security issues as we are.
Disclaimer: This is not an endorsement of the mobile phone apps listed below. It is simply a list of safety related mobile phone apps that appear to have merit and are available in app stores. We cannot vouch for their reliability or effectiveness and as such accept no legal liability or responsibility.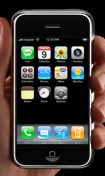 Users of any apps need to always do there own due diligence, and to always protect their phones with adequate anti-virus software.
You need to be aware that mobile phones loaded with personal, financial, and medical details will be targeted more and more by criminals, hackers, and computer viruses. Indeed, one app provider warns:

"Malicious apps may discover (and retrieve) private information about other apps... Malicious apps may use this (data contained in your phone) to send your data to other people... Malicious apps may monitor your messages or delete them without showing them to you... Malicious apps may cause unexpected calls on your phone bill".
Top 10 Safety & Security Mobile Phone Apps.
No.1 mPassport:
"mPassport is the award-winning mobile medical companion from HTH Worldwide. It is the solution for world travelers needing to manage a serious medical condition when they are far from home. Join hundreds of thousands world travelers who rely on mPassport to find reliable medical care when far from home"... HTH Worldwide.
This mobile phone app works without an internet connection and covers over 20 major cities in Europe, South & Central America, Africa and China; with "over 4,200 contracted physicians... in 180 countries outside the U.S." It provides maps and details of how and where to contact selected doctors, dentist and pharmacies and helps translate important medical terms.
Uploaded by HTHWorldwide on Aug 9, 2010.
www.mpassport.com/support.cfm
No.2 Life360:
This app was launched in 2009 and by mid 2012 claimed to have almost 18 million users.
Life360 allows Family GPS Tracking to locate family members anywhere; has a Panic Alert to signal if you are in trouble; and Safety Status Alerts of threats in your area as well as safety points (hospitals, police stations).
The Life360 smart mobile phone app is free but premium on-demand-location features can be purchased. This app works with iPhone and Android, and employs "Cell Triangulation Technology" that allows tracking of standard phones.
Life360
No.3 Smart Traveler:
"The official State Department app for U.S. travelers, invites you to see the world with easy access to frequently updated official country information, travel alerts, travel warnings, maps, U.S. embassy locations, and more".
U.S. Dept Smart Traveler app
No.4 HelpCall:
The HelpCall mobile phone app claims to be supported in 126 countries, in 5 languages (English, French, German, Spanish, Polish) "and more coming soon!"
Pressing one of four buttons helps you to get assistance from Police, Fire, or Ambulance Departments in your region... or places an emergency call to friends or family.
HelpCall App
No.5 Alarm.com:
This impressive mobile phone app allows you to remotely "arm or disarm your home or business security system with just a touch of a mobile phone". It allows remote monitoring of live video feeds from surveillance cameras in the home or office to check on staff, nannies, children, pets, or illegal entry.
As well as sending an alert of any problems Alarm.com also allows remote control of lights and heating, and remote locking/unlocking of doors.
Alarm.com
No.6 Real Alert:
This Personal Safety mobile phone app was developed by a female real estate agent in Austin Texas.
She was motivated by an increase in crimes and attacks against American real estate agents in recent years following The Global Financial Crisis and property crash. Crimes "ranging from minor thefts and assaults, to rapes and even murder". She said... "I didn't want to be the next victim".
Real Alert app
No.7 American Red Cross First Aid:
"Accidents happen. The official American Red Cross First Aid phone app puts expert advice for everyday emergencies in your hand. Get the app and be prepared for what life brings. With videos, interactive quizzes and simple step-by-step advice it's never been easier to know first aid".
American Red Cross First Aid app
No.8 Pocket First Aid & CPR...
American Heart Association:
"This mobile phone app provides quick, concise and clear first aid and CPR instructions from a user's smartphone that can help a user save a life in the event of an emergency. The 2011 app has been updated to include:
34 videos and 46 high-resolution illustrations added

Reorganized content to make it easier to find help in an emergency

Redesigned, easier user experience

Search functionality.

This is the same mobile phone app that helped save a life in Haiti after the 2010 earthquake. Read the incredible story of Dan Woolley, who survived 65 hours under rubble by using this application, as featured on CNN, NBC Nightly News, Fox News, London Daily Mail, NPR and many more news sources. CNN"
Pocket First Aid & CPR from American Heart Association
No.9 PanicGuard:
This British PanicGuard mobile phone app boasts it is endorsed by the Association of Chief Police Officers (ACPO), has been awarded the Police Preferred Specifications (PPS), and is recommended by CrimeStoppers.
Activated by shaking or tapping your phone, it turns on GPS functions and calls your emergency contacts, and can even "activate a piercing alarm that works as a powerful deterrent tool to deter would be attackers".
Video/audio is automatically uploaded to panicguard.com so evidence is stored securely for future use, while GPS tracking allows backtracking "to find additional footage from CCTV along your route".
PanicGuard app
No.10 ICE:In Case of Emergency:
The ICE:In Case of Emergency mobile phone app is just one of a number of In Case of Emergency apps like smart-ICE and ICE.
In Case of Emergency apps store the user's medical data (allergies, medications, past medical history & illnesses, etc) for first responders and hospital staff in case of emergency, Doctor's names and numbers, insurance details, and will immediately alert your specified contacts.
ICE:In Case of Emergency app