Surviving An
Economic Depression.
In an Economic Depression the rules change.
In a prosperous, booming economy it's all about:
finding rewarding employment (both financially and emotionally);

accumulating wealth and assets for you and your family;

indulging in the best and latest life has to offer... everything from holidays abroad, fine dining, fine cars & fashions, to getting the latest gizmos.

In an Economic Depression, however, it becomes all about:
keeping your job (and maintaining some kind of cash flow);

cutting back on extravagant lifestyles;

reducing debt;

ensuring your assets are safe and accessable;

ensuring your bank offers complete security and won't fail;

and surviving in a world that threatens to turn increasingly hostile as crime and political instability escalate.

Is this collage of recent magazine magazine and book covers a sign of where things are headed... where frugal is the new black?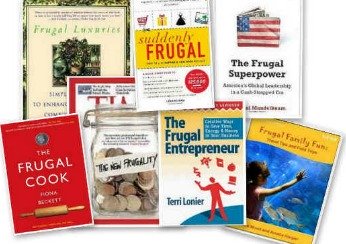 What Is An Economic Depression?
A Depression always starts out as a Recession.
A Recession can come in all shapes and sizes but is generally accompanied by:
If governments are unable to turn a Recession around by stimulating the economy (via "Quantitative Easing", "pump priming", running the money printing presses day & night, "throwing money out of a helicopter", pushing interest rates down & keeping them down, tax cuts, whatever)... then economists and politicians eventually start worrying about the unthinkable.... the dreaded "D" word
An Economic Depression occurs when;
A recession persists for 2 or more years.


The GDP experiences a serious decline greater than 10%.



Soup Kitchens

The Unemployment Rate spikes dramatically sometimes up to 25-40% in some sectors.


Credit Liquidity dries up.


Banking and Financial Crises rock the world.


Corporate and personal bankruptcies escalate.


Sovereign Debt Defaults and Bank closures cause a flight to cash, gold or silver.


International commerce and trade is curtailed as Trade Wars break out.


Desperate Currency Devaluations between nations result in a desperate "race to the bottom".


Entrenched Price Deflation replaces concerns over Inflation or Stagflation.


Civil strife sees law and order break down, crime and rioting escalate.


Political tensions result in wars and a break down in societies.


The "Great" Economic Depression of 1929... "The Financial house of cards collapses"... "A financial panic grips the world"... "Practically overnight an economic blizzard swept the world"... "Always the unemployed, the soup kitchens, the grinding poverty, and the despair".
Steps to Surviving an Economic Depression:
The reality is that very many people will be caught totally unawares and totally unprepared should an Economic Depression befall our generation... just as history tells us many of our ancestors were in the past.
The worry is most people won't be moved to action until it is too late.
In an Economic Depression when someone tries to off-load real estate or shares there may not be any buyers.
When someone loses a job it may prove almost impossible to find another quickly.
If banks are failing and stocks becoming worthless it may be extremely difficult to preserve your wealth and assets.
Never the less, here are a few possible suggestions:
Prepare for the worst... Then if it's not so bad, all the better. But if it is, you'll be better able to cope & survive.


Pay Down Debt...Falling asset values and falling wages or income are a killer if you're lumbered with high debt and interest repayments.


Protect your savings...Are your Bank & Financial Institutions rock solid?


Hang on to your job... If you've got a job do everything you can to keep it. But if you're in a sector with poor prospects consider finding a safer position before the competition gets too fierce.


Keep cash on hand... enough to allow you to buy the essentials needed to carry on for several months if you can.
Remember "Cash Is King" in a Deflationary Environment.


Safety & Security is vital... that means assessing how vulnerable your home, suburb and workplace are if crime escalates and taking whatever measures you can to keep you and your family safe.


Frugal is the New Black.


Prepare for a long haul... The 1873-1896 Depression was first called "the Great Depression" and lasted some 23 years. It was later renamed "The Long Depression" after the 1929 Depression proved to be more severe, and lasted from 1929-1941 (12 years) until the U.S.A. entered World War II. see 1929 Great Depression Facts & Figures

*P.S. Under the U.S. National Bureau of Economic Research's more selective criteria (which doesn't declare "Depressions") the 1873 "significant decline" actually contracted for 5 years 5 months... and the 1929 "significant decline" for 4 years 7 months.

Whichever way you cut it, their affects devastated global economies for much, much longer... Depressions can drag on for many years.


Family & Friends need to pull together in tough times.


Survive & Prosper... Everything comes to an end, including Depressions.

The challenge is for you to protect yourself and your family through it all. Those that do come through with savings and finances intact will find buying opportunities not seen for generations in the ensuing recovery.

The survivors will be buying;

stocks (those that have survived) at fire-sale prices.
great homes at amazingly cheap prices.
prime commercial property from distressed banks.
and art and collectibles at bargain prices.



So good luck... stay strong, and stay safe.
Economic Depression
Newsflash 13th December 2011:
"It's time to start calling the current situation what it is: a depression.

True, it's not a full replay of the Great Depression, but that's cold comfort. Unemployment in both the United States and Europe remains disastrously high. Leaders and institutions are increasingly discredited. And democratic values are under siege.

On that last point, I am not being alarmist".
... Paul Krugman, Nobel Prize
winning economist, New York Times.
* * * * * * * * *
Newsflash February 2012:
"The poor working-class person is scared to death they're going to lose their house, and scared to death they're going to lose their job."
... Prof. Susan McManus,
University South Florida.