Set Up Layers Of Home Protection
With DIY Home Security Systems.
Location Matters... DIY Home Security Systems.

The range of DIY Home Security Systems you need to protect your house will vary a lot, depending on where it is situated.
Home safety and security requirements in an area where crime and poverty are rampant are vastly different to those in an affluent suburb of a law abiding community.
If you live in some parts of South Africa (with its overwhelming poverty and crime, and 20,000 plus murders each year) security may mean living behind razor-wire fences with armed guards and attack dogs.
Where as living on the U.S. border region between Arizona and Mexico (where one rancher's isolated home has been broken into 18 times thus far) poses its own set of problems.
Even within the more affluent, law-abiding cities there are areas labelled by police authorities and insurance companies as "high risk" areas or "no go zones".
The sensible thing to do is avoid living in such high risk areas where possible rather than relying solely on DIY Home Security Systems.
Uploaded by Robert Siciliano on May 11, 2009
Home Security and Burglary Prevention starts with understanding basic layers of protection and prevention. While a sticker or a sign isn't "secure", it is a deterrent and creates doubt in the mind of the burglar. There are a number of creative measures you can take to protect your home and family. Robert Siciliano www.IDTheftSecurity.com
Layers of Protection... DIY Home Security Systems.
Adding more layers of protection to your property makes it more difficult for a thief to break into your home. The more difficult it looks the more likely the thief will move on to an easier, nearby property.
Like some wit said: "Home security is like running away from a lion... you don't have to be faster than the lion.. you just have to be faster than the person next to you!"
There are three areas where you can start to set up these layers of protection as part of your DIY Home Security Systems.
The more security measures you take, the greater your level of protection:
1.Protect the Grounds Surrounding Your Home... DIY Home Security Systems.
Erect a perimeter fence.
That doesn't necessarily mean erecting a six-foot-high brick fence (which can also protect a would be thief once he's scaled it). A better fence is one that allows neighbours or passers-by to see through to your property and hopefully detect any suspicious behaviour. A high spiked metal fence can be a real deterrent and still look good.


Trim foliage and shrubs to eliminate blind spots where a thief might hide.


Install motion sensing spotlights to deter night prowlers.


"Crunchy" gravel driveway and paths might discourage a prowler trying to move around quietly.


Install Closed Circuit TV cameras to scan the grounds. Even a fake camera can act as a deterrent.


Keep ladders or garden tools (that might be used to break in) locked away.


Consider a watch dog. Even a "Beware Of Dog" sign on its own may help.
*Caveat. One ex-thief, to the contrary, says a "Beware Of Dog" sign rather than scaring him off, actually told him the house was unlikely to have an alarm system installed!


Secure your mailbox and clear it daily.


Don't leave empty boxes from newly purchased expensive electrical items on display outside your home.


Be discrete about home contents being visible from the street.


---
Uploaded by kccitv on Nov 19, 2010
Burglaries happen 16,000 times every year in Iowa, and it only takes a matter of moments. Security expert Tom Conley with the Conley Group said there are some simple steps homeowners can take to help prevent burglaries.
2. Building Perimeter Protection... DIY Home Security Systems.
Only 15% of American houses are alarmed. Yet a house without a security alarm system is 2 to 3 times more likely to be burgled. Hard-wired systems can be embedded into new buildings to all doors and windows, while retro-fitted or wireless systems can be added later. Warning alarm window decals should be prominently displayed as should the external alarm warning siren and light. (You can stick warning decals on windows even if you don't have an alarm system).


All exterior doors should be solid and fitted with heavy-duty Grade 2 deadbolt locks.


The internal door to the garage should likewise have a heavy-duty deadbolt. Many break-ins still occur through the garage (even though most automatic garage door openers today have Radio Frequency scramblers to prevent burglars from opening them by accessing the RF code).


Fit additional locks (preferably keyed) to all windows.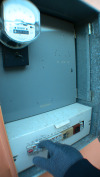 Padlock an external electricity-supply-meter box. Prowlers have been known to flick off power switches before attempting entry.


All sliding windows and doors should have added security devices to prevent them being lifted out of their tracks.


Consider metal security screens or grills on doors and windows.


---
3.Interior Security... DIY Home Security Systems.

Situate PIRs (Passive Infra-Red) detectors (connected to an alarm system) in internal rooms to detect the movement of a burglar who has breached the perimeter defences and gained entry to the building (sometimes through the roof).


Give your house an occupied look by regularly using timers to switch lights, TV and radio on and off while your away.


Back up computers and store valuable files, cherished photographs, videos, etc on copies in a safe location. Insurance can replace a stolen computer but not your personal data.



Store valuables out of sight in a secure location (e.g. a strongly anchored safe).


Take detailed video or photos of all your possessions to help record items stolen during a robbery. Make a note of the serial numbers of all appliances, and perhaps mark your property with an engraver.


Keep important documents like passports, bank statements, birth certificates, driver's licences, etc in a safe place. One UK insurance company reported in 2009 that ID documents were stolen in 74 percent of burglaries. It's bad enough to be robbed, but to then suffer Identity Theft or fraud as well is tragic.


Sleep with a flashlight nearby (in case you are awoken to find the power cut off) and a weapon handy.


---
Protecting yourself from a home invasion with Michael Bane.
Some Statistics... DIY Home Security Systems.
Statisics vary enormously from one community to another, and one insurance company or police precinct to another.
The following statistics are to provide food for thought, nothing more.
Most robberies in residential buildings occur during daylight hours.


One Australian insurance company experienced 79 percent of theft claims from houses with no alarm. One third of these claims were buildings fitted with key-locked windows. 65 percent of claims were houses fitted with deadbolt locks. "Back to base" monitor-alarmed houses comprised 3.6 percent of claims.


One American insurance company found 12 percent of burglaries were through an unlocked door. In 41 percent of burgled houses with alarms the security system wasn't switched on.


It is not unknown for thieves to revisit a crime scene the week or two following. They now know the layout, and also know you'll probably have replaced the stolen goods with brand new ones.


Another survey found 54 percent of security system owners were not totally sure of how to use them. 89 percent of burglaries remain unsolved. 72 percent of convicted burglars surveyed would not be deterred from robbing an alarmed house. 25 percent of owners only turn on security systems when they go to bed. 11 percent of burglars had some previous knowledge of the victim.
---
Don't Be A Twitter "Twit"... DIY Home Security Systems.
In today's connected world many seem obsessed with making lots of new "friends" out there in Internet Land.
So much so, that some can't help but tell the world exactly what they are doing every two minutes (as if it really matters).
Well, one American family went on vacation Twittering details of their holiday along the way to all their "friends". Trouble is... they came back to find their house burgled, and police suspect someone took advantage of their tweets.
The moral is... be careful about divulging sensitive or private information over Twitter, Facebook, or any similar forum. Not everyone out there is your "friend".