Hazard Signs And Dangers Every
Traveller Needs To Be Aware Of And Avoid.
Would you recognize Danger or Hazard Signs if you saw them?
Dangers lie in wait for the unwary traveller in some of the world's exotic and far away places.
Before you take off, do yourself a favour and check out your country's Travel Advisories about what safety and security precautions you should take at your destination. These include:
The Australian Travel Advisory
The United Kingdom Travel Advisory
The United States Travel Advisory
World Health Organization
Travel advisories issue alerts and warnings on a country by country basis as to which areas are considered dangerous and best avoided; what health or security risks might be encountered there; what hazard signs to look out for, and where to seek help in an emergency.
What kind of risks or hazard signs are we talking about here?
Here are a few of the current alerts listing dangers a traveller may face:
China Hazard Signs... "Travellers should take only licensed taxi cabs when travelling to the airport. The Embassy has received reports of individuals taking unlicensed taxis or "black" cabs to the airport; after exiting the vehicle the driver departs the scene with the individual's luggage still in the car.... some U.S. citizens report that they have been victims of robberies while in their hotel rooms in tourist areas."


The Bahamas Hazard Signs... "The water sports and scooter rental industries...are not carefully regulated. Every year people are killed or injured due to improper, careless, or reckless operation of scooters, jet-skis, and personal watercraft or scuba/snorkelling equipment."


South Africa Hazard Signs... "Safari Safety - While visiting game parks and reserves, it is dangerous to leave one's vehicle or otherwise be on foot, even in the presence of a guide. Several incidents of wild animal attacks on tourists in the region have resulted in death or serious injury."
Russia Hazard Signs... "Groups of children and adolescents have been aggressive in some cities, swarming victims, or assaulting them and knocking them down. They frequently target persons who are perceived as vulnerable, epecially elderly tourists or persons travelling alone."


Brazil Hazard Signs... "Brazil's murder rate is more than four times higher than that of the U.S.... The majority of crimes are not solved...Robbery and "quick-napping" (short term kidnapping) outside of banks and ATM machines are common...Car jacking is on the increase... citizens are advised to avoid Rio de Janeiro's favelas... Several local companies offer"favela jeep tours"... citizens are cautioned that neither the tour company nor the city police can guarantee their safety when entering favelas."


Tanzania Hazard Signs... "We continue to receive reports that terrorists are planning attacks against a range of targets, including places frequented by foreigners."


Africa Hazard Signs... "24,000 people die of rabies in Africa each year and the infection is mainly transmitted by dogs."


Take the time to wise up before you travel. Avoiding these dangers and recognizing hazards signs could save your life and the lives of your family.

EXTREME SPORTS = EXTREME RISK.
Action-packed (is that word-speak for "Danger-packed"?) "Adventure Holidays" aimed squarely at the adrenaline junkie have sprung up all around the world.
Take your pick...scuba dive with schooling hammerhead sharks off Cocos Island near Costa Rica... go kayaking or white water rafting in the Canyon Rivers of Peru... paraglide off the mountainous peaks around Rio de Janeiro... bungee jump 220m down off the Verzasca Dam, lake Vogomo, Switzerland (like James Bond in the movie "Golden Eye").
Be aware, however, that by ignoring the hazard signs you may literally be taking "your life in your own hands".
New Zealand (which has created a niche for itself in Extreme Sport & Adventure Holidays) experienced a spate of fatal accidents in 2008-2009. These included:
... a 21 year old British female drowning while "river-boarding",
... a 24 year old female British backpacker falling 160ft to her death after losing control of a quad-bike,
... a British student doctor killed falling from a boogie board while "sand surfing",
... a Chinese female drowning after her "jet boat" flipped over,
... six Auckland students and their teacher killed in a river canyoning accident,
... a female teenager killed in a bungee jump from Balance Bridge Swing,
... Australian heli-skier swept away by an avalanche,
... the guide of this victim killed in a second avalanche nearby three weeks later.
From mid 2008 to mid 2009 a total of 22 Australian fatalities occurred in New Zealand (out of a total of 1,038 Aussies who died while holidaying overseas).
Prime Minister Key was so concerned the bad press might hurt tourism that he quickly launched an urgent investigation aimed at exposing and eliminating "cowboy companies putting tourist's lives at risk".
NEWSFLASH:
Hot Air Balloon Crash Kills 11: January 8th, 2012.
10 passengers and the pilot of a hot air balloon were killed near Caterton, New Zealand.
It appears the balloon clipped power lines showering sparks and setting the basket alight.
A man and woman jumped to their deaths from the burning basket before it plummeted to the ground killing all on board. Two retirees on board had received the flight as a Christmas present.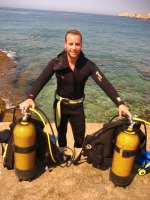 Accurate, recent statistics to quantify the dangers of extreme sports are not easy to come by, but here are a few that may be of interest:
Around 50 "white-water deaths" occur in the U.S. alone each year.


Approximately 25% to 30% are thought related to heart conditions or heart attack.


One study of "Base Jumping" in 2002 estimated one fatality per sixty participants (British Journal Sports Medicine). Another study said 44 fatalities per 1,000 participants.


Climbing K2 ( 2nd highest mountain after Everest)...104 fatalities per 1,0000 participants...one fatality for every 4 people reaching the summit.


Paragliding/Hang Gliding... 3.8 fatalities per 1,000 participants.


Skydiving... 3.3 fatalities per 1,000 participants.


Scuba Diving... One fatality per 200,000 dives... up to 150 fatalities per year in U.S.A.


Parachuting... an average 30 fatalities per 100,000 jumps.


Hot Air Ballooning... 4 Dutch tourists burnt to death in Yangshuo, China October 2009 in one incident alone. Two tourists killed in a balloon crash in the desert of Abu Dhabi in 2010. Two women burnt to death when balloon burst into flames in British Columbia, Canada in 2007.


Just 5% of extreme sports people are over 70 years of age, yet they account for over 20% of all injury claims.


Many of these sports are considered too dangerous and may not be covered under a basic Travel Insurance policy. If you think you might feel the urge to get an adrenaline rush by trying any of these sports make sure you do your due diligence. If you find an insurance company willing to take on the risk you'll almost certainly have to fork out extra for a more comprehensive insurance cover.
It's bad enough if you get injured while trying one of these sports at home. But it will be a real disaster if you or one of you're family are badly injured and stranded in some foreign hospital with no easy way of getting home.