A Home Safety Checklist Might Help You
Avoid Nasty Incidents Or Accidents.
Think you don't need a Home Safety Checklist? Think again!
For most of us "Home is where the heart is". But it can also bring grief and harm to your family if safe habits are ignored.
In 2006 an estimated 5,000,000 people around the world died from injuries, both intentional and accidental.
The United States accounted for 179,000 of these, of which almost 122,000 (or 68 per cent) were from accidental or "unintentional injuries".
Of these "unintentional" injuries around 50,000 deaths (or 40 per cent) were classified as "home deaths" and occurred around the house.
Non-work "Motor Vehicle Deaths" accounted for approximately 54,000 deaths in 2008 (or 35 per cent), while "Work Deaths" amounted to only around 5,000 deaths (or 4 percent).
The U.S. National Safety Council concluded recently that "Americans are safer at work than they are at home - 11 times safer". Their research found that 13,000,000 Americans suffered "Disabling Injuries" at home in 2008 alone.
The Most Dangerous Room In A House?...Home Safety Checklist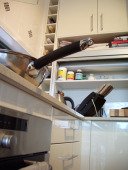 The answer is most often the kitchen.
Although hospital statistics suggest that the bathroom is more dangerous in proportion to the small amount of time spent there, much more time is spent around the kitchen which is the hub of family activity. Hence, an estimated six to seven times more injuries occur in the kitchen than the bathroom.
A U.S. Home Safety Council survey found American adults listed the three most dangerous areas in the home as:
1. The kitchen.
2. The bathroom.
3. The stairway/hallway.
You'll find Kitchen Safety covered seperately, while the other areas for your home safety checklist are listed below.
Very funny...
...unless it happens to you.
---
The Bathroom...Home Safety Checklist.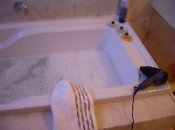 Never leave children alone in the bathtub or bathroom.


70% of bathroom child injuries were under 5 years old.


Two thirds of injuries were due to scalds or near drowning.


Set the home hot water thermostat to no more than 110°F (44°C ). At 60°C it takes just one second for hot water to cause a full thickness burn of a child's skin.


Install anti-scald devices on taps and shower heads.


Seniors may require a hand-held shower and a seat to sit on.


Install non-slip mats and grab bars to reduce falls on slippery surfaces.


Lock away medicines, poisonous cleaning chemicals & solvents, oily (lung clogging) products, etc in a child-proof cabinet. The U.S. experiences up to 4 million cases of poisoning each year resulting in some 30,000 deaths (The Institute of Medicine). Of these just over 2 million are children under 6 years of age (The Lucile Packard Children's Hospital at Stanford). 90 percent of poisonings occur in the home. 40 percent of poisonings involve medications.


Lock away hair dryers, electric shavers, and sharp items.


Avoid using a floor radiator/heater.
---
The Living/Family Room... Home safety Checklist.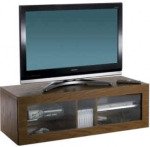 In 2008 the U.S. Consumer Product Safety Commission estimated 42,700 injuries and 180 deaths were caused by furniture or appliances tipping over from 2000-2006. In 2007 alone 17,000 children were treated in hospital emergency rooms; 76 percent were less than 6 years of age; almost half the injuries and 23 deaths involved falling TV sets. The death rate from large-screen LCD and Plasma TV "tip-overs" has increased dramatically as the large, thin, heavy, glass screens on a relatively small base are less stable than older TVs.


Domestic irons are the most common cause of contact burns (with hair straightening iron burns on the increase). Cordless irons are safer and make it more difficult for little hands to pull hot irons off the ironing table. Never leave them switched on while unattended and remember... they stay hot for quite some time.


Cuts and lacerations caused in the home by shattering glass furniture (like coffee tables) send an estimated 20,000 people each year (mostly children) to emergency rooms in the U.S. Three to four children die each year.


Ceiling fan blades must be at least 7 feet above the floor.


Adults playing with and lifting minors must be aware of ceiling fans present.


Keep a First Aid Kit handy.


Child safety covers over power points help protect youngsters.


Better still... install an Earth Leakage Circuit Breaker in your fuse box.


An increasing number of young children are being treated for treadmill-related burns and injuries.


Keep children well away from heaters and radiators if wearing flammable clothing.


Asphyxia (choking, suffocation, strangulation, compression) caused 15 percent of deaths in New York City minors in 2009. Nearly half choked on food or foreign objects (including a grape, a candy ball, a tooth, and a fruit seed). Others included a child strangled by a necklace on a high chair, a 9 year old strangled by the shower tubing in a bath-tub, and a minor strangled by a skipping rope tied to a door.
---
The Bedroom... Home Safety Checklist.
Don't smoke in the bedroom. Smoking is the main cause of home-fire-related-deaths (U.S. Centers for Disease Control & Prevention) accounting for around one third of roughly 3,000 U.S. deaths each year.


Fit smoke detectors in or near the sleeping area.


Keep heaters at least three feet away from bedding, clothing, walls and furniture.


Turn heaters off when going to sleep.


Scalds from boiling water in bursting hot water bottles burn thousands of people each year. In 2009 the Australian NSW Dept. of Trading alone recalled 250,000 defective hot water bottles.


Bunk beds account for up to 36,000 injuries in the United States annually (Center for Injury Research 2008).


Around half of these injuries occur to children less than six years old.


20% of bunk bed injuries resulted in fractures, 10% concussions, 30% serious cuts, and 25% bruising.


Ceiling fans mounted near bunks are dangerous. In sub-tropical Queensland, Australia (where ceiling fans are more common) researchers found 10% of injuries related to children being struck while on the top deck. Serious skull fractures and some deaths have resulted.


Children under six years of age should not be allowed to use an upper bunk.


All bunk beds should conform to required safety standards as regards guard rails, ladder design, etc (e.g. as per U.S. Consumer Product Safety Commission guidelines).

Bedroom Home Safety Checklist Cont......
Safe Bunking...
by Rob Lobitz.
With the economy and the housing market being what they are, it's no surprise that more families than ever are conserving their household space and buying bunkbeds.
Practical considerations aside, many kids (and some adults) get a huge kick out of sleeping on the top bunk. The law of gravity being what it is, the potential safety downside of being on the upper perch isn't hard to figure.
While serious bunkbed injuries from mishaps are extremely rare these days, there are plenty of common sense ways to avoid potential catastrophes, bumps, bruises and scratches that can befall young sleepers.
The most important step is to install guard rails between the bed and the wall to prevent any part of a child's body being trapped in the space and so reduce serious injuries.
Just as important, no matter how much little Jason or Jennifer wants to spend nap time on the top bunk, it is never a good idea to allow children under six years of age to sleep on a top bunk (under any circumstances). For smaller, or less co-ordinated children... wait another year or so.
A brief tour of YouTube will quickly show you the chief cause of bunk bed injuries is often kids "horsing around". If you catch your kids fooling around, warn them they might be "grounded"... sleeping back on the actual ground for a while.
---
The Laundry... Home Safety Checklist.
Lock away all cleaners and chemicals in a child proof cabinet. Common cleaning agents like bleach, ammonia, and sodium hypochlorite are dangerous when taken orally or when mixed together (creating poisonous gas).


Clean your dryer's lint filter. The U.S. Consumer Product Safety Commission estimates some 16,000 fires, and up to a dozen deaths each year are caused by clothes dryers.


Don't leave liquid-filled buckets unattended. Toddlers can drown in an inch or two of water.


---
The Garage... Home Safety Checklist.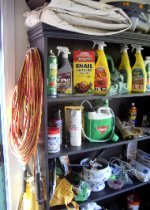 Pesticides, fertilizers, gasoline, paint thinners and strippers, turpentine, acids, etc need to be clearly labelled and out of reach or locked away from children. Child safety is paramount on any Home Safety Checklist.


Check there are no children behind your car before backing out. (Australian insurance company) NRMA estimates that driveway incidents "account for about 10 percent of all child pedestrian deaths and injuries".


Don't sand old furniture that may contain lead-based paint. Breathing or swallowing lead dust is dangerous, especially for young, growing children whose brains and nervous systems are more sensitive. The U.S. Centers for Disease Control and Prevention estimate around 250,000 children under 5 years have elevated levels of lead in their blood.


Almost 10 percent of domestic burns occur in the garage.


Don't run the car motor in a closed garage. There are well over 2,000 accidental deaths and 15,000 injuries from Carbon Monoxide (CO) poisoning in the U.S. every year. CO alarms are a wise precaution to detect this odorless, tasteless, colorless gas (especially in cold climates where indoor gas heaters are on for long periods).


Presented By:
HomeInsurance.org
---
The Stairway... Home Safety Checklist.
The elderly need to be especially careful when climbing or descending stairs. Almost 16,000 people over 65 died from injuries related to accidental falls in 2005. Almost 2 million people over 65 were treated for falls in emergency departments. More than one third of adults over 65 fall over each year (U.S. Center for Disease Control and Prevention). The needs of the elderly must definitely be considered in your Home Safety Checklist.


Erect sturdy safety gates to prevent young children falling down stairs.


Light stairwells adequately with light switches top and bottom.


Watch out for loose carpet or rugs.


Be careful of poorly fitting footwear or long clothes that may trip you up.


Don't pile objects on stairways.


---
The Swimming Pool/ Spa... Home Safety Checklist.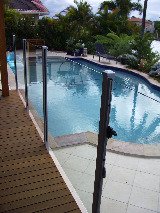 Last but not least on your home safety checklist is your pool.
400-700 children under 5 years of age die of pool-related accidents each year in the U.S. That's why your pool area must definitely be included in your Home Safety Checklist.


Up to 5,000 more require emergency treatment. Up to 20 percent suffer severe, permanent disability.


The U.S. Consumer Product Safety Commission estimates over 800 deaths in hot tubs and spas since 1990 (about 20 percent toddlers under five). Locked safety covers should secure spas when not in use.


The CPSC also reports 12 deaths and 43 incidents related to people's hair being sucked into and entangled in spa suction outlets.


74 incidents have also been reported to the CPSC of body parts being sucked in by the strong suction of drains in pools and spas. Of these, 13 died and two were disembowelled.


Secure the pool area with a childproof-fence with self-closing and self-latching gates.


Don't leave toys floating in pools. Children may be attracted to them and fall in while leaning over to reach them.
Don't rely on air-filled "water wings" or flotation toys to keep kids safe...they don't substitute for proper supervision or personal flotation devices like life jackets.


Closely monitor pool chlorine, pH, and stabiliser levels. Unsanitary pools can cause illness and even death from pathogenic germs.