Think Ship Safety... Not Just
Smooth Seas And Deck Games.
Sea travel can be loads of fun... but ignore Ship Safety and it could turn into your worst nightmare:
"Cruising is one of the safest vacations available with an outstanding record that demonstrates the industry's commitment to safety and security... while crime can occur anywhere, a cruise ship is one of the safest ways to travel". President International Council of Cruise Lines, Michael Crye, March 2006.
"...cruise ship crime too often goes overlooked". U.S. Representative (D-NY) Carolyn Malloy, June 2006.
"...(there is ) a growing manifest of unexplained disappearances, unsolved crimes and brazen acts of lawlessness on the high seas... (perhaps) "the perfect way to commit the perfect crime". U.S. Congressman Christopher Shays, June 2006.

Ship Safety...So What Could Possibly Go Wrong On A Sea Cruise?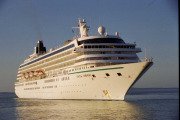 Here are a few examples of why you shouldn't ignore ship safety:
Jewellery worth $32,000 stolen from passenger on Mediterranean cruise (2006).


30 cruise ship passengers in two groups robbed at gunpoint while ashore in Nassau, Bahamas within two months(2009).The local guide was tied up, one woman struck in the face with a gun and cameras, wallets, passports and mobile phones stolen.


30 year old American woman murdered while ashore in Antigua (2010).


Merrian Carver disappeared two days into an Alaskan cruise. Her family were not notified. Her possessions were stored in "Lost and Found" and were eventually sold.(2004)


25 people disappeared from cruise ships in 2009. Up to half are thought to have committed suicide.


A foreign crewman on a Carribean cruise entered 5 cabins and assaulted 5 different women in one night. He was tried and convicted by a Bermuda court.


A Vietnamese-American couple disappeared between Barbados and Aruba in May 2005. They were travelling with their daughter and granddaughter. The cruise was a Mother's Day gift. They had survived a perilous sea voyage 30 years earlier to escape from Vietnam to the U.S. Their disappearance has never been explained.


The much publicized case of Australian Dianne Brimble who at the end of her first night of a cruise lay drugged, naked and dying on a cabin floor. (2002)


Passengers on a luxury ocean liner staged a mass protest when on one leg of their around-the-world cruise they made port only twice in 22 days. Engine problems meant staying in one port 5 days, then skipping the next 5 ports in an attempt to make up lost time.


150 out of 800 passengers sailing around the British Isles came down with Norovirus-like symptoms (vomiting, diarrhea, and stomach cramps ) and one elderly passenger died.


Another cruise to the Canary Islands was aborted when 289 out of 795 passengers suffered an outbreak of what was thought to be Norovirus. The same ship had experienced 180 and 50 cases on two earlier cruises.


And then there's the weather...
Voyager in cyclone Valentina Feb.2005, Mediterranean Sea.
To see what it would be like onboard a ship in a storm like this scroll down to the bottom of page.
You've probably got the picture by now. Things can and do go wrong during sea travel. Make sure they don't go wrong for you.

Ship Safety...Sea Travel Facts and Figures.
Around one third of cruise travellers are senior citizens to many of whom ship safety is an important issue.


Over half ship's infirmary patients are over 65.


Some 5 percent of medical emergencies require evacuation to a shore hospital.


Respiratory tract infections make up around 30% of illnesses treated. ... most commonly influenza and Legionella.


Injuries account for another 19%.


Sea sickness affects roughly one in ten passengers.


Gastro-intestinal problems comprise roughly 9 % of patients treated (Centers for Disease Control and Prevention). An outbreak of Norovirus is the main fear of cruise ships.


An outbreak of Rubella on one ship was traced back to the crew, 11% of which were acutely infected.


Another ship was found to have 13% of crew infected by Varicella.


Crew members comprise some 50 nationalities.


Many ships fly"Flags of Convenience", meaning they are registered in countries with less stringent labor, health, safety and environmental codes (e.g. Liberia, Panama, Bahamas). As such they are are sometimes exempt from reporting shipboard crimes or illness. It also makes for a legal nightmare when considering maritime law when at sea, the various shore jurisdictions when in port, and the laws of the country of registration.


One American law firm studied ship safety and 174 complaints of rape or sexual assault on one cruise line's ships over a 4 year period and found not a single person had been prosecuted or convicted.


Some lawyers claim that a few cruise lines don't take ship safety seriously enough; they don't always protect passengers rights; and sometimes don't investigate complaints and accusations adequately fearing bad publicity for their business.


These lawyers also claim some shady crew members act as predators seeming to believe their chances of being arrested or convicted of wrong doing are minimal...believing "what goes on cruise, stays on cruise"...they wish!


Prof. Ross Klein of Newfoudland's Memorial University commenting on ship safety believes the rate of sexual assaults on cruise ships is "about 80 to 90 per cent higher than the rate for forcible rape in the U.S.... (and that) it is more than three times higher than the (cruise) industry claimed in their testimony before Congress in 2006".

In an effort to plug some of these loopholes in ship safety the United States passed the "Cruise Vessel Security Act of 2009" to better protect American citizens.
It includes ship security and ship safety requirements such as;

....log book entry and reporting of deaths, "people gone missing", outbreaks of illness, and alleged crimes.

...a central database of crew members terminated due to criminal acts to prevent crew with a criminal past simply move on to another cruise line.

...provision of rape kits and crew capable of crime scene investigation.

...video surveillance to monitor crime.

...peepholes in cabin doors.

...improved cabin locks and time sensitive key technology.

...limits on the number of crew with access to cabins, especially at night.

...guard rails to reach 54 inches in height (not 44 inches as on some ships).

...that all larger cruise ship's infirmaries have adequately qualified staff on call 24 hours per day; be capable of handling most medical emergencies; provide one intensive care unit and one bed per 1,000 passengers and crew: use shore-based back up telemedicine systems where possible; and have a medical evacuation strategy in place.

Ship Safety...Steps You Can Take To Avoid Trouble At Sea.

Stick to larger cruise lines with better health facilities and ship safety standards.


Check your cruise line's health record.


Have necessary immunizations.


Keep a copy of passport, birth certificate, and other vital documents in a safe place.


Senior citizens should have pre-travel health checks, always take a good supply of necessary medications, and where advisable take a copy of your medical records with you.


Don't assume every crew member is trustworthy or your "friend".


Keep your guard up as if in a strange new city or town.


Don't allow alcohol or drugs to affect you.


Don't leave valuables or passports lying around in your cabin unattended.


Don't take along expensive jewellery especially when visiting poor regions.


Be careful when on deck and near a guard rail.


Use all locks on your cabin door while asleep. If they are inadequate or outdated use other means to secure your cabin.


Don't open your door to strangers.


Avoid isolated locations and stay in public areas, especially at night.


Be especially on your guard when going ashore.


Protect your cabin key and room number.


Wash your hands frequently, especially after using public restrooms which are usually the most contaminated (especially door handles). Assume that heavy traffic areas, handrails, etc are all contaminated due to the large numbers of people in a confined area.


Wash your hands before eating and drinking, touching your face or eyes, or brushing your teeth.


Wash your hands after blowing your nose, shaking hands, and helping a sick person.


Use alcohol based hand sanitizers and gels where washing is not possible.


Remember... washing is always best.


Take the usual precautions necessary when eating and drinking in foreign environments.


However, if you're unfortunate enough to find yourself in a cyclone like passengers onboard the Pacific Sun when it was hit by 8 meter waves and 50 knot winds... then all you can do is hang on and pray!
Uploaded on 9 Sep 2010 by HDMediaGroep:
The impact of massive waves that struck a cruise ship during a tropical storm off New Zealand revealed by CCTV footage.
Ship Safety...Inside the Pacific Sun during a severe tropical storm off New Zealand in July 2008. The most horrific images are 4-5 minutes into the video.