The Best Spy Camera Pen?
The best Spy Camera Pen needs to be undetectable, totally reliable, and capable of delivering great video and audio.
Today's Pen Spy Cameras come with many cool features.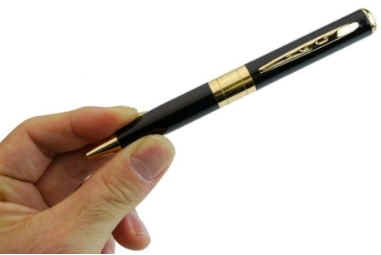 The more sophisticated versions can be motion or voice activated, and record low-illumination high-resolution colour video, photos, and mp3 files... and with 4GB or 8GB of internal memory.
Record business meetings with a portable recorder Video Spy Pen that quickly changes from megapixel still photos, to voice recording mode, to video recording mode with the flick of a switch.
Motion activation is a great way to catch thieves, shop-lifters or employees goofing off or being in places they shouldn't be. In motion activation mode the spy camera pen only records when someone moves in front of the pin-hole mini camera.
Features:
Tiny size and discreet look makes it ideal for otherwise impossible recording opportunities.
Color video and high-end voice sensitivity allows you to clearly make out images and hear exactly what is said.
Sleek and fashionable design.
Total recording time per charge can be over 100 minutes depending on mode.
Built in Li battery lasts for up to 2 hours per charge, and has a hidden USB port to easily upload to your Mac or PC.
Video compression: AVI video format (1280 x 720 Video resolution with up to 30 fps.
Armed with a Spy Pen Digital Video Recorder evidence recording or recording anything you want to video has never been easier.
The Spy Pen Digital Video Recorder is the smallest high resolution, real time digital video recorder ever produced. You won't believe the high quality video you can get with this tiny Video Recording Pen with 4GB of internal memory; it is truly amazing.
Just plug the DVR Spy Pen into your USB port of a PC and instantly view the video. How simple can they make it?
It works on a PC and Mac. Charge the spy pen for 3 hours and you can start recording. When you are done, hook it up with the cable, or directly into a USB port, and drag the videos to the desktop and you are ready to view.