Texting While Driving Makes
You A Menace On The Road.
MOBILE PHONES.
Texting while driving makes you more dangerous than a drunk driver. And talking on your cell phone while driving can be just as distracting and dangerous.
An estimated 5,870 American auto deaths in 2008 were attributed to cell phone use and texting drivers (ref: Wikipedia) as well as 330,000 injuries (Harvard Center Risk Analysis).
A number of studies have concluded that cell phone users exhibit greater impairment than intoxicated drivers.
Mobile Phone Facts.
A 2009 study by the Virginia Tech Transportation Institute found a driver who texted a message while driving was 23 times more likely to have an accident.


Up to 19 percent of drivers admit they drive and text at the same time.


That's why many jurisdictions have or a planning to ban texting and mobile phone use while driving.


Many are also banning the use of hand-free devices arguing they also distract the driver and are "just as dangerous".


Around 2,000 American teenagers die each year because they drive and text. (U.S Dept. Transportation 2009).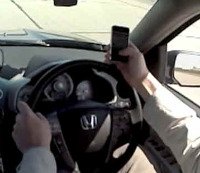 Up to 51 percent of teens talk on a cell phone while driving and 46 percent admit to texting. (AAA survey 2007).


37% of teenagers rated texting their greatest distraction while driving a vehicle. (Liberty Mutual poll 2007).


Teens are greatly influenced by their parents in how they drive. Unfortunately, almost 2/3 say their parents talk on cell phones while driving, nearly half their parents speed, and almost 1/3 say their parents don't always wear a seat belt.


Drivers typically take their eyes off the road for 4-6 seconds at a time when texting.


An engineer who sent 45 text messages while operating a train was blamed for a collision in Chatsworth 2008 that killed 25 passengers.(Wikipedia)


A Texting Driver is a menace...
2,000 American teens are killed each year trying to text and drive.
NEWSFLASH:
Texting Girl Dies on First Solo Drive: ... May 15, 2013.
A young girl in Missouri, USA has been killed on her very first solo drive.
Savannah Nash, who had turned 16 one week earlier, was on her way to buy groceries at the local store for her family's dinner when she smashed into a semi-trailer.
Police at the accident scene found a lengthy unsent text message on her mobile and believe the girl had been texting while driving when she crashed.
18 May 2013 by KCTV.