Workplace Harassment...
Crossing The Line.
What is Workplace Harassment?
It is unsolicited, unwelcomed, inappropriate behavior or treatment in the workplace that offends, humiliates or intimidates an employee or co-worker.
Unsolicited, Unwelcome, Inappropriate...
Examples of Workplace Harassment:
Jokes based on sex, race or religion.


Displaying sexist, offensive images or material (e.g. sexy calendars or screen savers).


Inappropriate touching, gestures or leering.


Sexually offensive comments or emails.


Demanding sexual favors in return for favorable work conditions (also called "Quid Pro Quo Harassment".. or "Something for something").


Asking intrusive personal questions about someone's private or sex life.


Taking advantage of conferences or office parties to press for sexual favors... workplace harassment can still occur out of normal work hours.


Spreading false, malicious rumors or gossip.


Unfair, persistent sarcasm, insults or criticism.


Threats of dismissal or punishment.


Making intimate, personal comments about a person's physical features or body.


Facts & Statistics.
... The U.S. Equal Employment Opportunity Commission (EEOC) received nearly 31,000 Unlawful Harassment Claims in 2010 (out of a record 99,922 charges filed also alleging Discrimination and Retaliation).
... of these 11,696 were Sexual Harassment Claims which resulted in $48.4 million in damage.
... 100% of women claimed the harasser was male; in 43% of cases it was a supervisor; in 27% of cases a senior employee; in 19% of cases a co-worker; in 8% of cases a junior employee.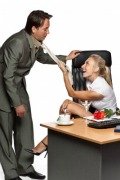 ... 16.4% of sexual claims were from men, 83.6% from women.
... 59% of men claimed the harasser was female. 41% were harassed by another man.
... 62% of sexual harassment targets don't take action (Louis Harris & Assoc. survey).
... The average single claimant lawsuit incurs defence costs of $250,000.
EEOC Press Release
... June 15th 2011.
Sonic Drive-In Settles Sexual Harassment and Retaliation Suit for $2 Million.
Manager harassed over 70 female workers, including teens, and retaliated against victims who complained. Some employees were forced to quit after the employer failed to rectify the situation.
Ricoh (Greensboro, N.C.) to Pay $125,000 in Harassment and Retaliation Suit.
Three workers (a Puerto Rican, a black Liberian and a Columbian) were subjected to verbal harassment of a racial nature.
The female manager harassed them by saying she "hated Puerto Ricans"... "Hispanics are so stupid"... "Columbians are good for nothing except drugs"... "damn, f***ing Africans...ain't worth s**t".
The harassment was allowed to continue despite their complaints. All 3 were eventually suspended, then fired.
What To Do If Harassed.
Warn the harasser that you find their actions or speech objectionable.
Keep an accurate written record of all transgressions.
Alert your immediate superior.
Refer to your company's Workplace Harassment Prevention Policy (if it has one).
Discuss your problem with friends and family.
Make a formal complaint to your company's Human Resources or Administration.
Inform your union (if you have one).
Contact the appropriate Equal Employment & Opportunity agency.
Get legal advice.
Pursue your right to compensation.
Most larger companies today have complaint handling procedures in place to investigate and resolve problems concerning workplace harassment in a fair and impartial manner.
Companies that don't address the problem, who retaliate, or allow retaliation to occur against a complainant, risk legal consequences and hefty damages.
Workplace Sexual Harassment is alive and well.